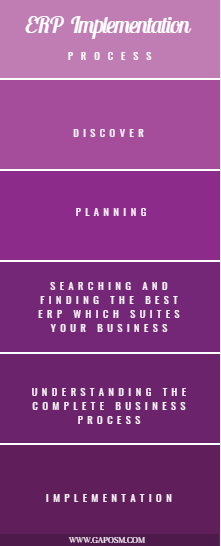 GAP ERP is ERP company in Mohali and is a light-weight business management software solutions,  which can be customized for specific solutions of the business. A business uses various modules to handle their back office operations. All the needs of the customer are managed through ERP. ERP was once only used by large businesses but in the coming years many ERP software's for small businesses have entered into the market.
Types of ERP software are as follows:-
Multi-tiered ERP system– A multi-tiered ERP system can be used by any device from anywhere and anytime.  In the multiple ERP software all the systems work under one environment and are known as two-tier or multi-tier ERP system.
On-premises or Cloud ERP– On-Cloud premises helps to access from internet and stores the data on the internet.
The modules that a company selects depends on the type and number of departments that manages the workflow of the business and also depends upon whether the company is selling products or services. An ERP software should be useful by making the software modules loosely coupled and integrated with other modules.
ERP components
ERP components which are required to run the software is as follows:-
A working system
You just need an active Internet connection.
A web based browser
An expert to handle the system.
When an ERP is implemented in an organisation then that company grows and prospers. The industry must change with the changing customer needs and demands and execute this in the short span of time, so that the customer do not have to wait otherwise he will shift to the other options available in the market. ERP is a business management system which unifies all the business processes of the organisation. Its a misconception that ERP will change the business look in a day it will improve both your front end and the back end functions simultaneously. ERP uses a centralized database management system and are flexible systems with best business practices.
Proper understanding of the business
Understanding of the previous system if working presently.
You can access OSM from anywhere and anytime as per your convenience.