Sales Module
This module is integrated with manufacturing and accounting. While billing, it updates the stock and the customer account. It also has functions of sending quotations, P.I.s, booking orders and controlling the credit limit of customers. You can also view the sales statistics of the company from here.
Finance Module
This module takes care of all the accounting needs of an organization. Integrated Purchase Vouchers, Multiple Configurable Cash boxes and Reporting from Balance Sheet and P&L down to viewing of a sales invoice or voucher is possible. GST, Tour & Travel Bills, Consumables used in the Company.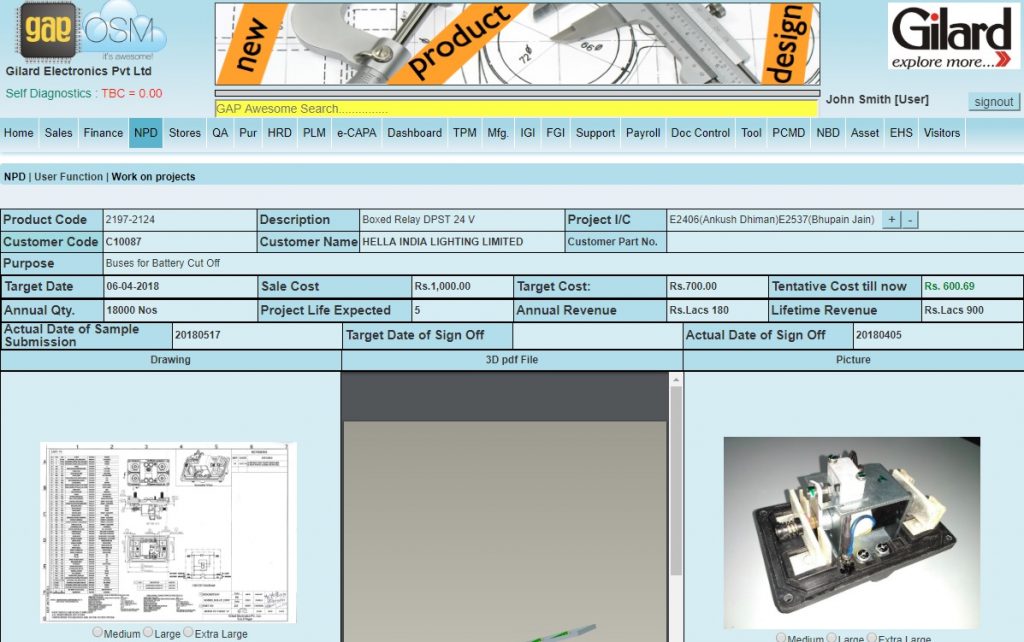 NPD Module
This module helps in preparing Part Lists / BOMs, deciding on Make or Buy, Indenting and Costing. It further defines the manufacturing Process, Production cycle times, Product and Process Control Parameters. It gives outputs like control plans and pre-filled Inspection sheets. It also helps in conducting / controlling FMEAs. It is based on APQP. It follows a logical sequence to Define, Design, Develop, Deploy and Digitize. All the required PPAP documentation gets prepared automatically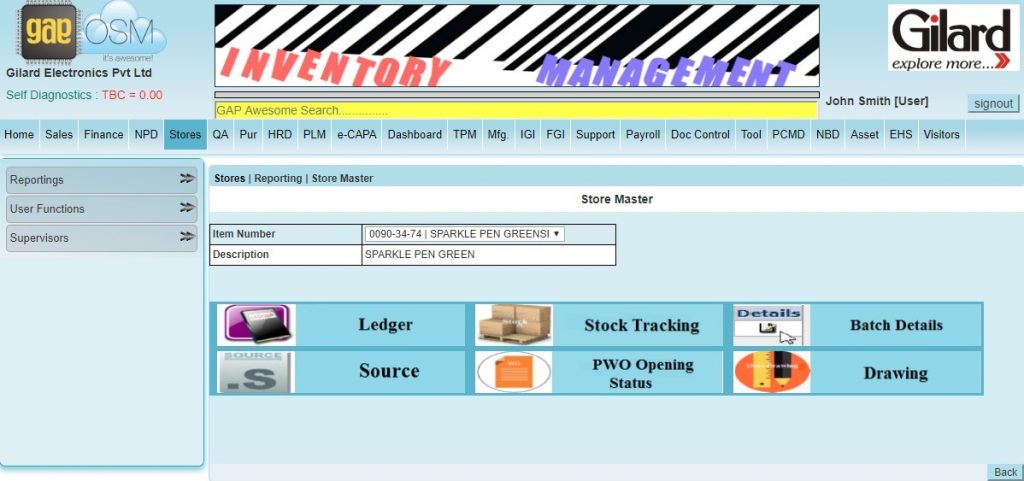 Stores Module
This module keeps a record of all the inventory items and Item ledgers, stock tracking, Batch details, PWO and AWO opening status, Stores Audit, MIS and MRS and displays any error in the stock.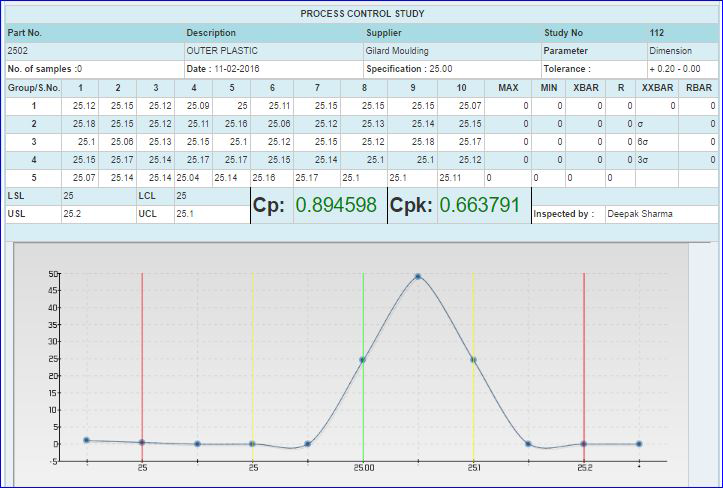 Quality Assurance Module
This module integrates Quality checks at all points like Incoming, In-Process and Dispatch. It uses the data and drawings provided by the PLM module to perform the inspection and reporting. It also has functions to do MSA and control on Inspection Equipment including calibration requirements.It also does Handling of Non-Conforming Materials.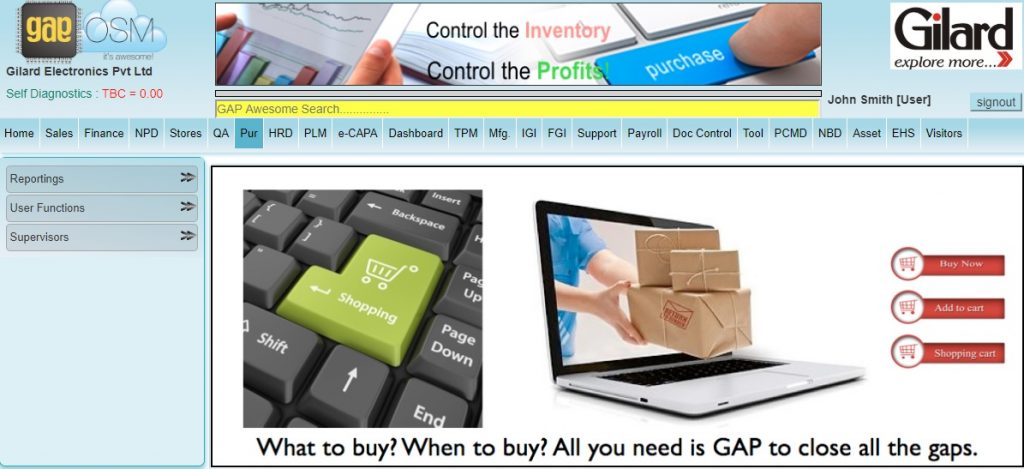 Purchase Module
This module does monthly resource planning process, vendor management Process, Purchase Order Process and the entire month's MRP done with a single click of a button.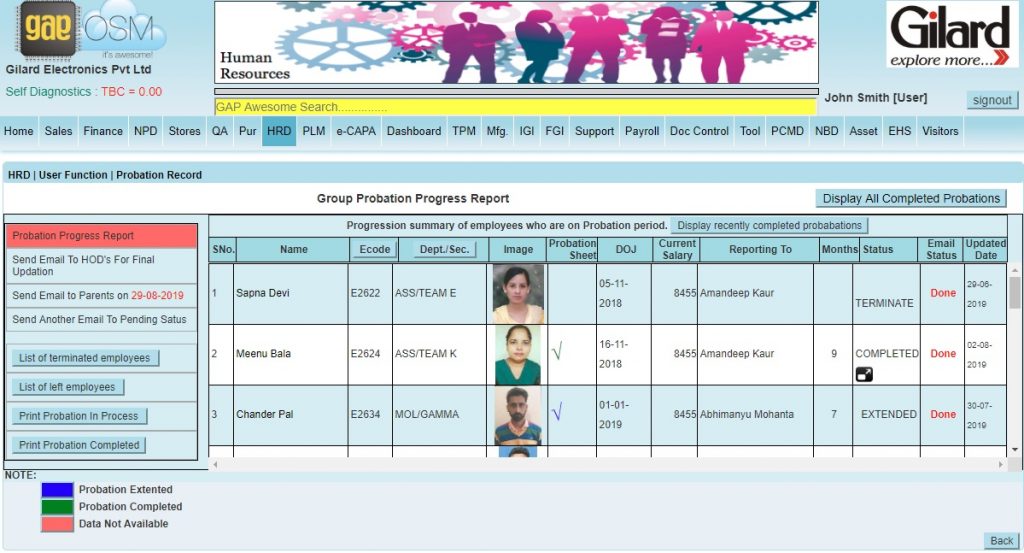 HRD Module
Besides preparing monthly Payroll with all the required legal and MIS reports, this module keeps a track of all the employees viz a viz their training needs, their qualifications and work experience, and also their Performance Monitoring for Appraisals.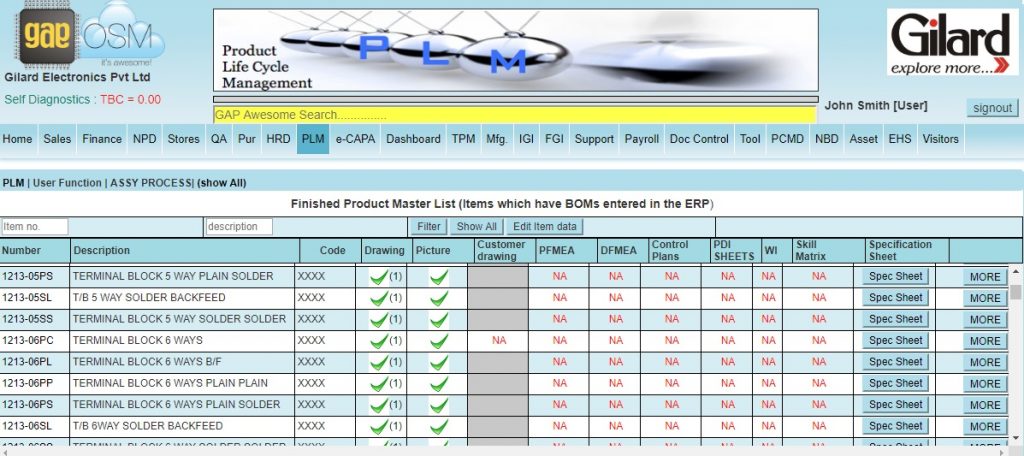 PLM Module
This module takes care of the manufacturing data. It contains the BOMs and the data related to machines and production. Links with production orders and ensures controls as designed are implemented on the shop floor.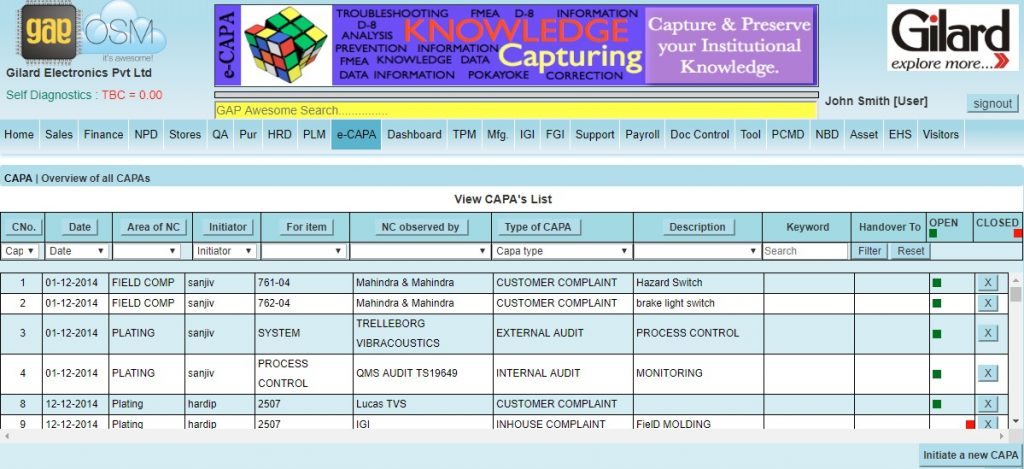 E-Capa Module
This module captures and retains the knowledge and intelligence of the associates and continues to guide the team even after the knowledgeable persons have left the organization.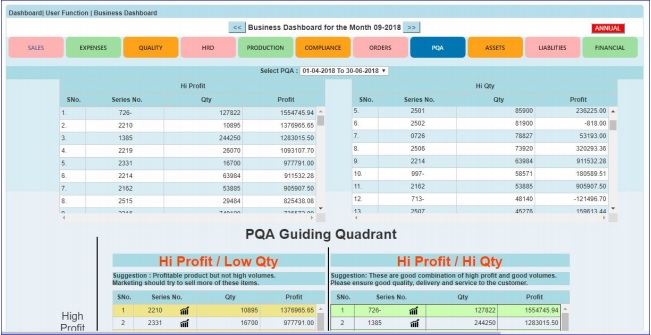 Dashboard Module
This module views the KRA/ PMS, Departmental reports and does PQA analysis, Configure graphs and shows Profit and Loss statement of the business.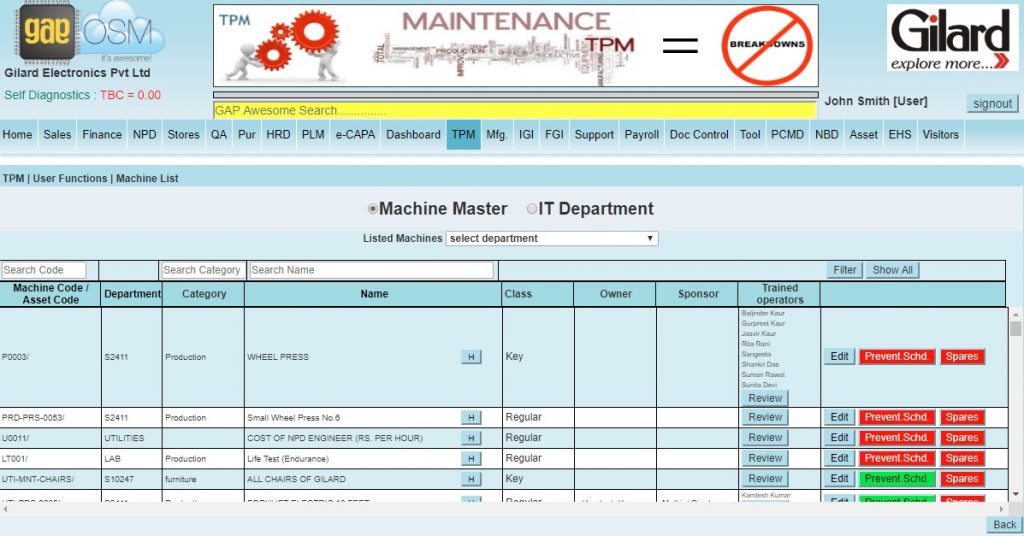 TPM Module
This module is used for Preventive and breakdown Maintenance of Machines, Handling of spare stock, Consumption of water in Electricity Expenditure, Consumption of water in Plating and History of tool Maintenance.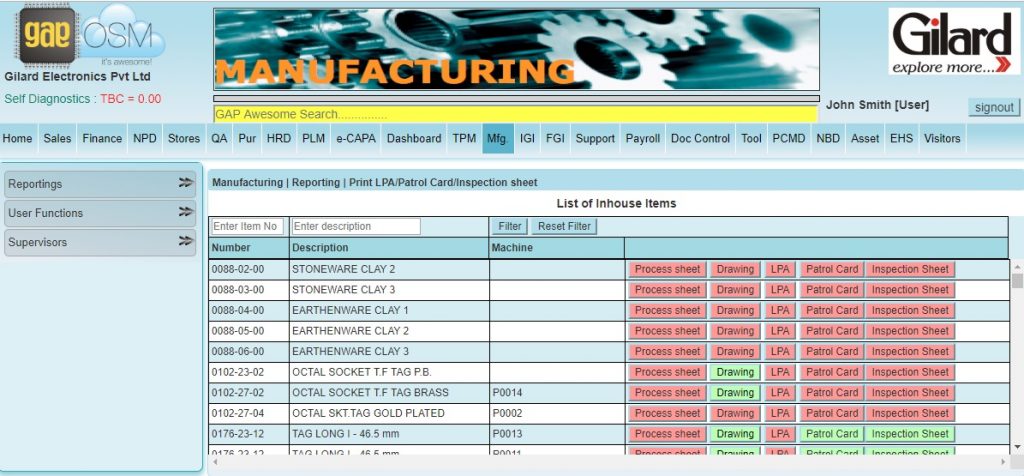 Manufacturing Module
This module takes care of all the manufacturing activities including receiving raw materials and parts, storing them to various Production Shops and Assembly lines to Finished Goods Stores routing them through QA checks wherever required.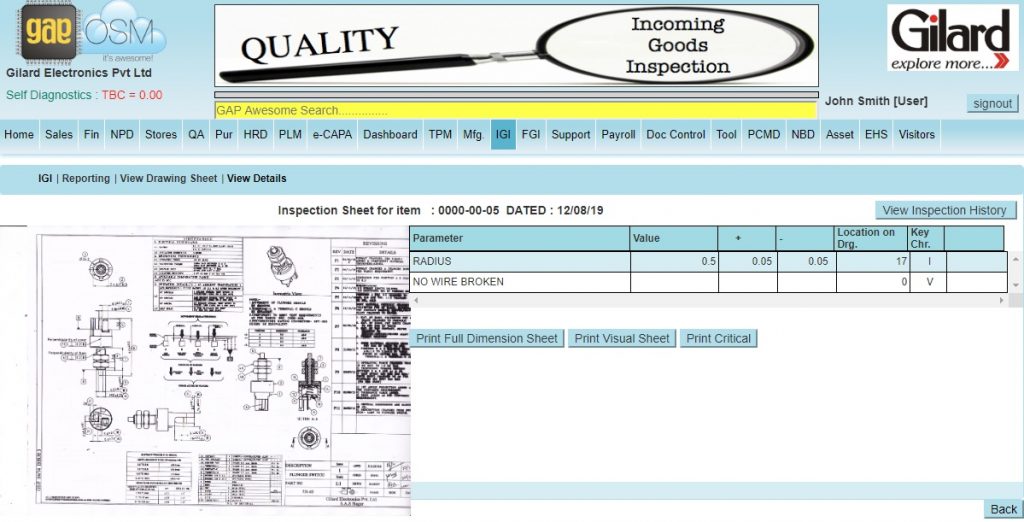 IGI Module
This module views inspection sheet, DJIS, DPIS, ICRR, and shows all Item Master. Here also you can view Items pending for Reinspection and Rejection Report of vendor supplies.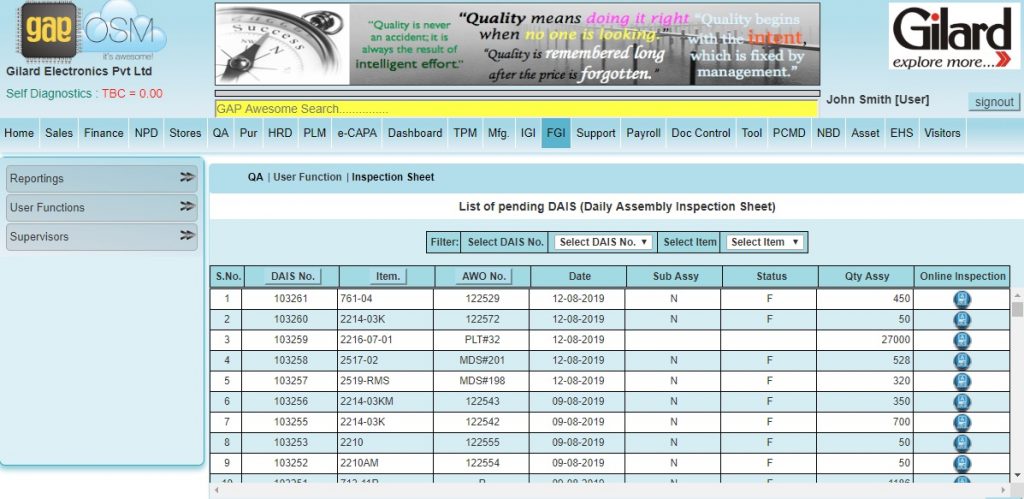 FGI Module
This module shows Inspected items in FGI, FGI stocks status and reports. FGI does the final inspection and correction if required.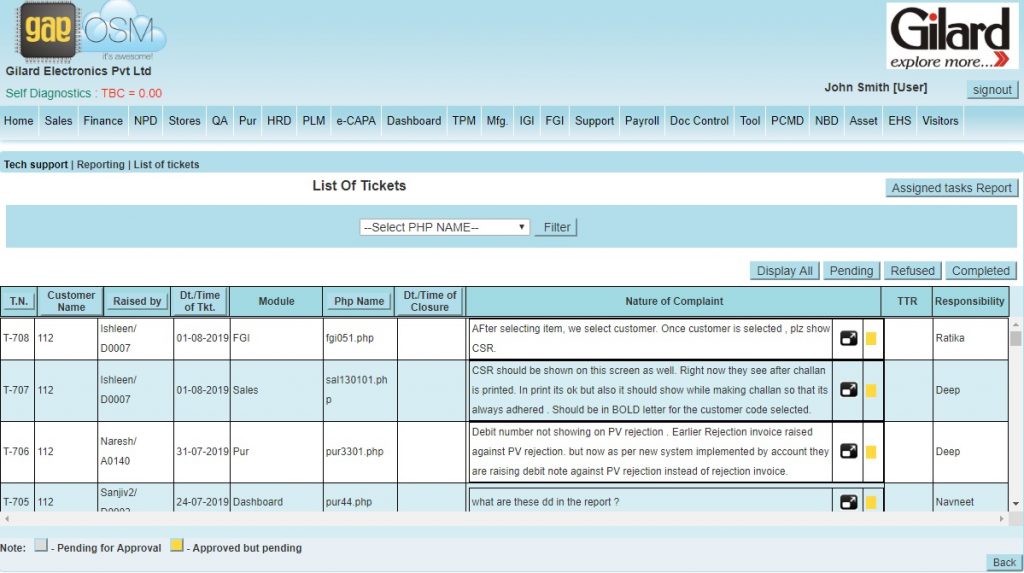 Tech Support Module
This module is used for Tech support where all complaints and tickets can be viewed and diagnosed.
Payroll Module
This module prepare Monthly Payroll, Maintenance of ESI, PF, Bonus, Salary, Incentive, Auto-generated Employees Payslips, Auto generated Employees wage register, ledger for Casual and Earned Leaves, individual career progression reports for Employees.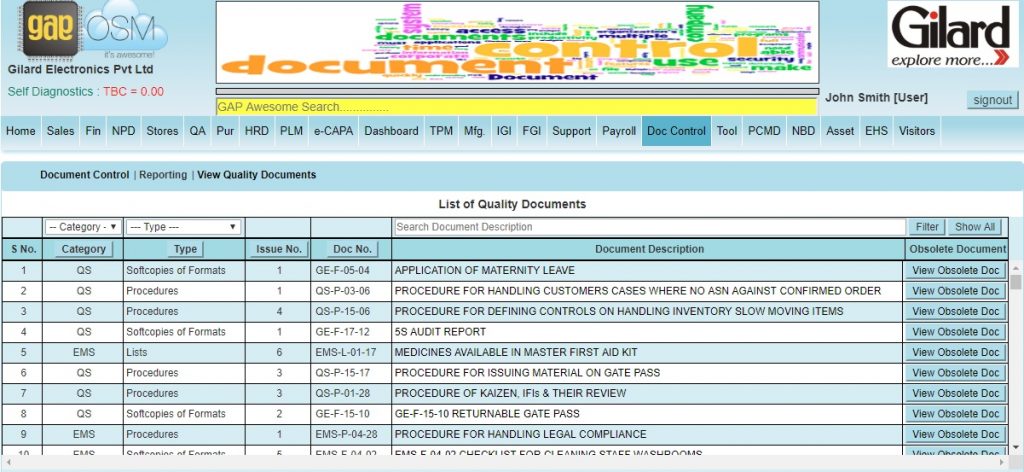 Document Control Module
This module is used for online control of documents for online access to the users. All quality documents like quality manual, Quality Plans, Procedures, Work Instructions and any other controlled documents can be viewed and saved here.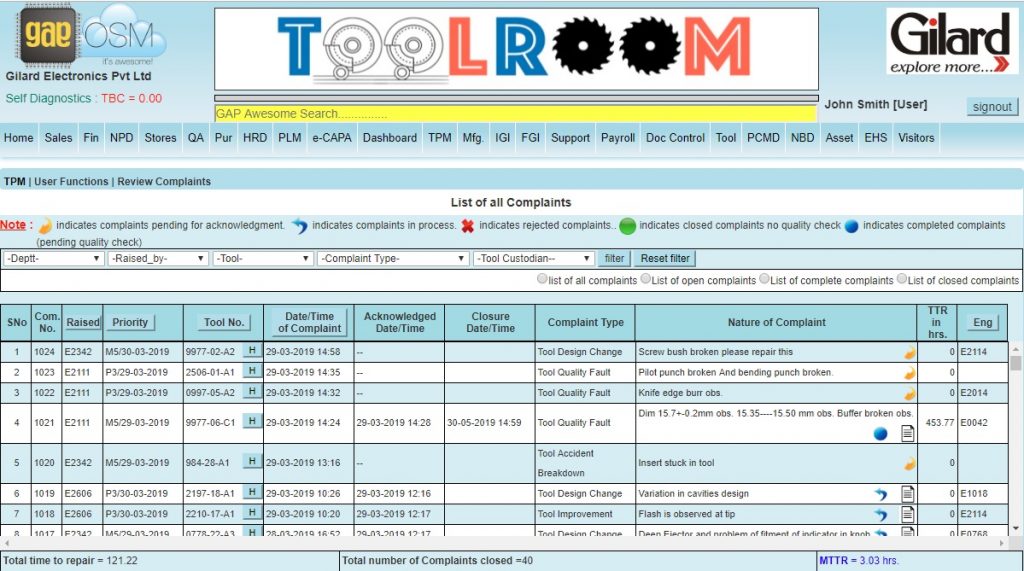 Toolroom Module
This module is for registering and viewing complaints of Tools for Maintenance. Tool History in terms of Production, Types of Repairs and Preventive Maintenance done, MTTR, MPBF, Repeated nature of Repair done etc. Is reported.
Environment Health and Safty (EHS)
This module identifies all the Processes in the Company. It helps conduct AIA ( Aspect Impact Analysis ) and HIRA ( Hazard Identification and Risk Assessment ). It further helps to decide the Counter Measures to make it safer and less hazardous.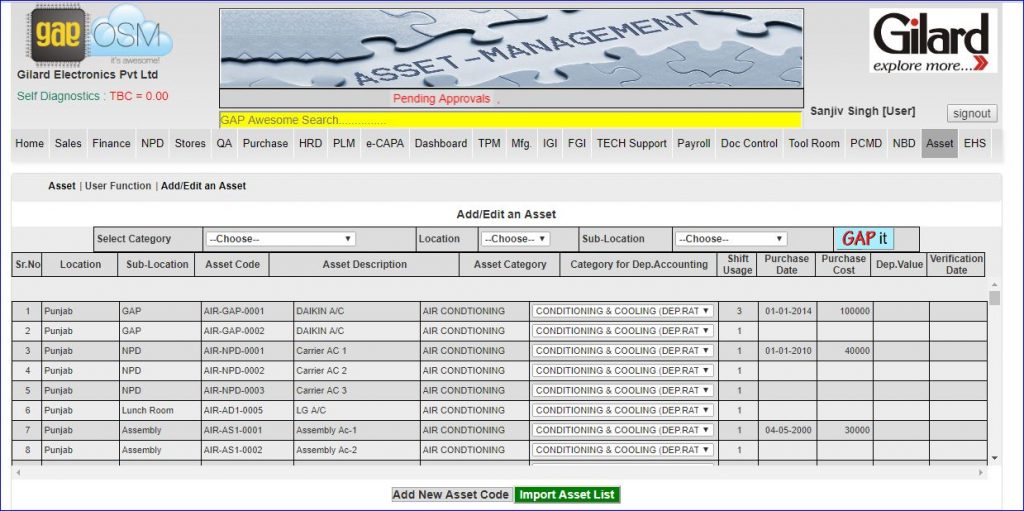 Asset Management
This module manages a list of each and every Asset of the Company. It has a system of coding and printing barcoded labels for each asset. The label can be put on the asset and can be read later to verify the presence of an asset during an audit. It also has provision for removal of an Asset for reasons of transfer to a different department or location.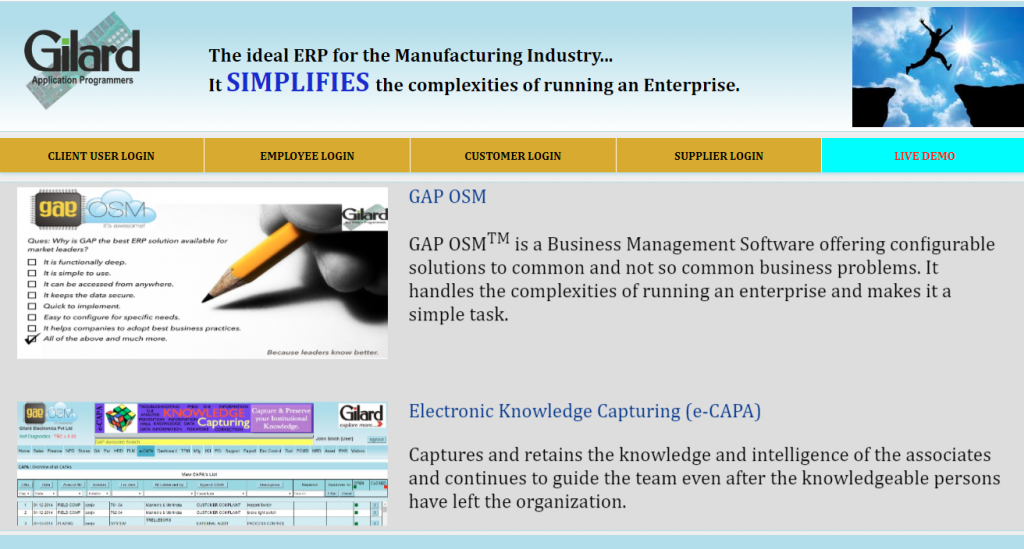 ERP
A complete ERP solution helps to streamline the processes of the business organisation. It organizes the work processes in an organisation in an organised manner. Enterprise Resource Planning is an open source software which helps to store the data online. This data can be accessed from anytime and anywhere.