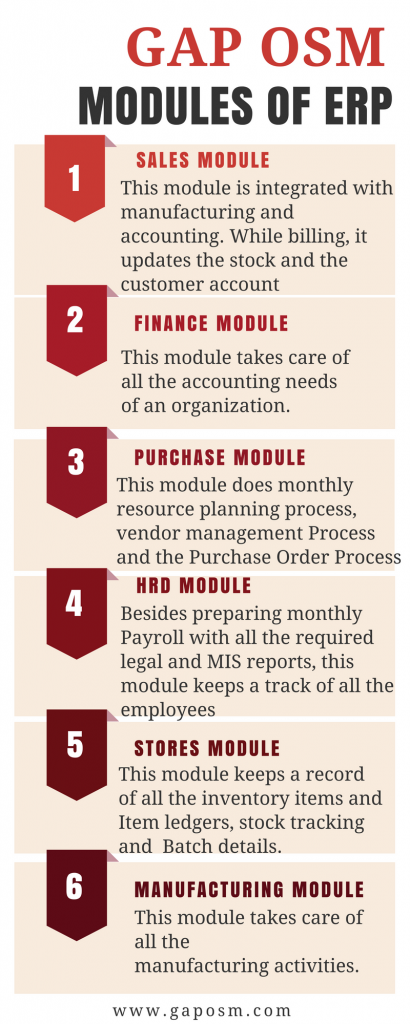 OSMTM system definition: OSMTM system is defined as the software which helps to manage all the activities going on in the business. OSMTM system helps to remove all the redundancies involved in the business and once an OSMTM software is integrated and implemented in the business it becomes the lifeline of one's business as all the transactions are done through the software. GAP OSMTM streamlines all the processes in the industry and helps to manage these processes in a systematic manner. GAP offers different modules which manages the different departments in your organisation.
Modules of OSM are:-
Sales Module:- The sales module manages all the orders from the customer and you can also view the sales statistics of the company from this software.
Finance Module:- The finance modules takes care of all the accounting needs like purchase voucher, journal voucher, cash voucher which are used in the company.
NPD Module:- This module helps to prepare part list, BOM, define production process cycle, manufacturing process. This module helps to define, design, develop, deploy and digitize.
Stores Module:- This module keeps a record of all the inventory items, batch details, stores audit and displays any error in the stock.
Quality Assurance:- This module keeps a quality check at every point of incoming goods to perform the inspection and reporting.
Purchase Module:- The purchase module does the entire month's MRP on a single click.
HRD Module:- Besides keeping a track on employee movement the HRD module also keeps a record of the training needs, performance monitoring for appraisal.
PLM Module:- This module takes care of the manufacturing data. This module contains data related to production and manufacturing.
Dashboard Module:- This module contains information about the PQA Analysis, configure graphs and shows profit and loss statement of the business.
TPM (Total Preventive Maintenance) Module:- This module is used for preventive and breakdown maintenance of machines, and also keeps a record of water and electricity consumption on the machines.
Manufacturing Module:- This module takes care of all the manufacturing activities.
IGI (Incoming Goods Inspection) Module:- This module keeps a record of inspection and rejection report of suppliers.
FGI (Finished Goods Inspection):- Finished goods and correction is done in FGI and this module shows inspected items in FGI.
Tech Support Module:- This module is used for Tech support where all complaints and tickets can be viewed and diagnosed.
Payroll Module:- This module prepares monthly payroll, maintain ESI, PF, Bonus, Incentive, calculation of earned and casual leaves etc.
Document Control Module:- This module is used for online control of documents for online use of users.
Employee Portal:- All the employees can login with their Ecode and password i.e. their registered mobile numbers and can login to view the company rules, Apply leaves, raise grievances and give suggestions, can also view their attendance register etc.
Supplier Portal:- This portal is given to the suppliers so that they can have real time view of the data.