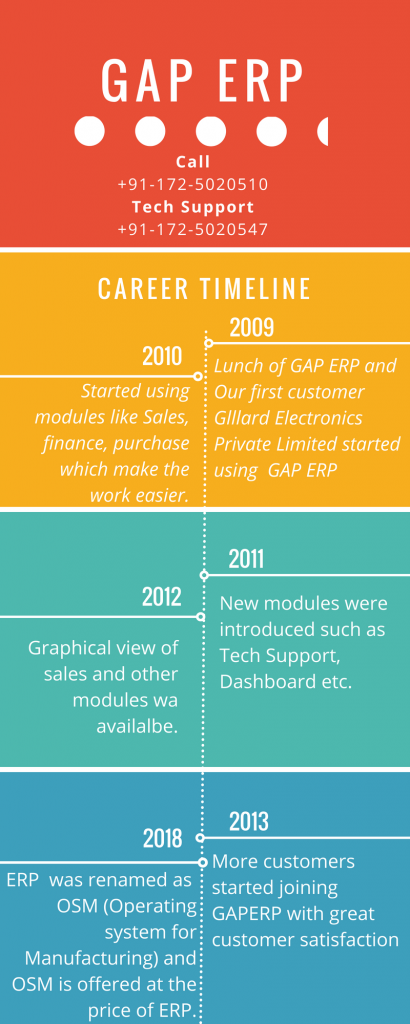 ERP is the acronym for Enterprise Resource Planning and can be used to collaborate various departments in the business and helps in faster decision making. An ERP system helps in:
Financial management – ERP helps you to improve the control over assets of the company, flow of cash and accounting.
Supply chain and operations management – Well organisation of purchase, manufacture, inventory, and sales-order processing.
Customer relationship management – Improving customer service, and increasing purchasing and promoting opportunities
Project management –  Handles projects and deliver them on time with good billing and monitoring.
Human resources management – Attract and retain good employees with tools that help you hire, manage, and manage payroll system.
Business intelligence – Make smart and quick decisions and helps to develop business intelligence tools
ERP also helps to move into the new market and improves visibility in all the operations and standardizes all the business processes. In the image shown you the view the year wise growth of GAP ERP.
ERP industry
ERP industry is the most important and growing industry which can help a business entity to prosper and survive in the growing competition. Each business has its unique way of making profit and doing business and ERP is a kind of software which has the capabilities of handling queries in its unique and important way. ERP stands for Enterprise Resource Planning and is used for managing the resources of the business and utilizes these resources in an efficient manner.
ERP is a large-scale software program which is used by modern businesses whether it is big or small. ERP aids in communication  between various departments and helps to gain profit and reduce the expenses. Most of the ERP systems are modular and allows the employees to access only the modules which they are authorized to. An ERP software tracks business resources, commitments and overheads.
If you dream of starting a business one day than ERP can help you a lot it can help your ideas convert into design. In designing ERP can help you to convert your plans into implementation and then in the next stage of production or manufacturing. In the next stage it also helps to create and manage your customers and retain them for long time. ERP software also helps to manage the orders of the company.